We Turn Two-Liner Ideas into MVPs for Startups
June 23, 2023
Posted by:

Rasheed Abdul Majeeth

Category:

Startups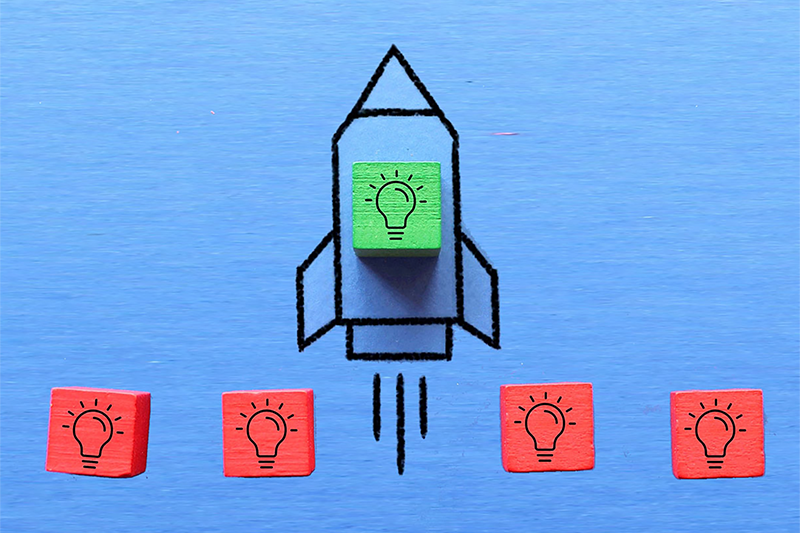 ABSTRACT
In today's dynamic business landscape, founders, startups, and young companies face numerous challenges while transforming their innovative ideas into successful products. They often encounter difficulties in elaborating their ideas, finding the right technological solutions, articulating evolving requirements, assembling a competent technology team, and embracing uncertainty. Ejyle understands these challenges and offers a comprehensive suite of services to guide and support organizations throughout their journey from ideation to market success. With a team of seasoned solution architects and a modular, outcome-based approach, Ejyle empowers its partners to overcome obstacles, adapt to change, and achieve sustainable growth.
INTRODUCTION
Are you a founder, visionary, startup, or young company with a brilliant idea or vision? Do you struggle with challenges such as defining your idea, building a robust solution, articulating requirements, finding a technology team, or navigating the uncertainties of the evolution process? Are you caught between giving feedback-driven demos to market/investors and actual product development? Do you face the dilemma of investing in costly in-house development teams versus quickly launching a product to generate revenue?
At Ejyle, we help our partners walk the journey from a one-liner idea to highly successful products. Our unique mix of ability, experience, and approach helps our partners conceptualize, ideate, add detail to the ideas, transform them to requirements, create the solution and technology landscape and architecture, take it through development, testing, productionize, go-to-market, and beyond.
ADDRESSING KEY CHALLENGES
ELABORATING IDEAS
One of the key challenges faced by business owners is expanding their initial ideas into well-defined concepts. Ejyle addresses this challenge by providing founders with in-depth analysis and adding necessary details to their ideas. Our experienced team collaborates closely with business owners to achieve a comprehensive understanding of their business objectives and ensure the viability of the ideas.
ARTICULATING EVOLVING REQUIREMENTS
Our experience suggests that founders and visionaries work best as their ideas evolve and progressively get detailed out. At Ejyle, we recognize this and empower you to transform your vision into strong and adaptable requirements. Through our collaborative approach, we ensure that the product aligns with the evolving vision of your startup while maintaining a strategic focus.
ROBUST ARCHITECTURE
Having a strong solution and technological architecture is crucial for successful platforms/products. Ejyle recognizes the significance of this and leverages its extensive expertise to develop robust architecture. Our domain agnostic solution and technology architecture capabilities focus on creating scalable, efficient, and future-proof solutions that are specifically customized to meet the unique requirements of each organization.
COST-EFFECTIVE EXPERT TECHNOLOGY TEAMS
Startups often grapple with the dilemma of investing in expensive in-house product teams versus rapidly entering the market to generate revenue. Ejyle offers a dedicated expert development team that operates as Product Development as a Service. We help you optimize development costs and facilitate a swift go-to-market approach. Our professionals seamlessly integrate with your organization, bridging talent gaps and leveraging their expertise to ensure a streamlined and efficient development journey.
NAVIGATING UNCERTAINTY AND EMBRACING EVOLUTION
In the dynamic startup landscape, uncertainty and continuous evolution are inevitable. At Ejyle, we embrace change as an integral part of our culture and foster an environment that encourages innovation. Our outcome-based modular approach acknowledges the constant evolution and allows for piece-by-piece demos to cater to market and investor needs while simultaneously building the platform for launch.
EJYLE ADVANTAGE
SOLUTIONING & TECHNOLOGY LEADERSHIP
Ejyle is backed by a team of seasoned solution architects and technology leaders with extensive experience. Their domain agnostic expertise enables us to offer guidance, mentorship, and strategic direction throughout the entire product development lifecycle.
OUTCOME-BASED APPROACH
Our solution-building approach is driven by outcomes and modularity. By tailoring our past experiences to your unique requirements, we deliver optimal results that align with your business goals.
EXTENDED THINK-TANK
As your trusted partner, Ejyle actively collaborates with you through strategy, product detailing, and development phases. We serve as an extended think-tank, providing valuable insights and fostering innovation throughout the journey.
EMBRACING UNCERTAINTY AND EVOLUTION
Ejyle thrives in dynamic environments, embracing uncertainty and facilitating the evolution of ideas into robust solutions. Our flexible mindset aligns perfectly with startup cultures, allowing us to adapt quickly to changing requirements.
RAPID TEAM ASSEMBLY AND SCALABILITY
Ejyle can swiftly assemble and scale development teams. With access to a diverse talent pool, we ensure that the right expertise is readily available to meet your project's requirements promptly.
RICH EXPERIENCE IN DIVERSE DOMAINS
Ejyle excels across diverse domains and industries. Our track record in developing specialized platforms showcases our adaptability and expertise in any domain. With this broad experience, we deliver tailored, exceptional solutions to meet your specific needs, regardless of your industry.